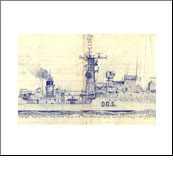 My Passions
The above is a drawing I did when I was 12. It shows the beginning of my infatuation with ship and art. It went on and developed into three passions; painting, ships and painting ships.
I paint not because I love ships; it is because I love painting. At the same time I would say even without painting, I still love ships. They are two individual passions. When I combine them, they happily generate lots of possibilities and wonders. At the core, it is the joy of imagination and creativity I get from it that drives me to produce the work shown here. Painting also provides me the platform to speak my thoughts on life and humanity.
If you want to know more about my work, please contact me.